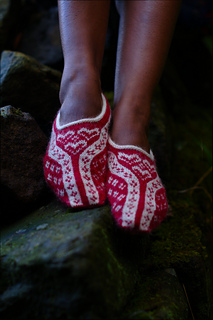 As part of the Indie designer Gift-A-Long, I am interviewing Indie designers about their favorite knitting and crochet projects, yarns, and gift knitting.
Ann Kingstone (AnnKingstone on Ravelry)
If you could only knit/crochet one item type of item, what would it be? It would be jumpers (English for 'pullover') or cardigans, just because these are what I most need for my wardrobe. I've designed quite a few myself now, and am keen to make several of them for me in my size. Alas, all the samples were made to fit smaller models than me!
What is your favorite splurge yarn or tool? Signature needles. I invested in several sizes of these this summer, and have been thanking myself ever since! I used to use cheap needles, and worried about spending a lot on higher quality ones until a fellow designer pointed out that a 'chippy' (carpenter) wouldn't use a cheap drill.
What is your favorite workhorse yarn? I don't have one! I love using a wide variety of yarns, and since I started using Rowan yarns I have a lovely range of luxury yarns to choose from. I guess if I had to choose a favourite from their range it would be Rowan Felted Tweed as it is so suited to colourwork, and I design a lot of colourwork.
Which of your patterns make for really great gift knitting? I think my best design for gift knitting is the Tess Slippers. Being a small item they are a relatively quick knit, and yet they are a lot of fun with lots of interesting techniques: Judy's magic cast-on, travelling colourwork, steeking, three needle cast-off, and applied i-cord edging. The Sweet William jumper is also a great gift knit for children, again with interesting techniques: short rows, integral button bands, stranded colourwork, and provisional cast-ons at the underarm. For folk that love giving Christmas-themed gifts my 'Wesley Bob' tree baubles are another fun stranded colourwork design.