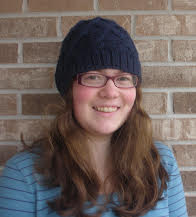 As part of the
Indie designer Gift-A-Long
, I am interviewing Indie designers about their favorite knitting and crochet projects, yarns, and gift knitting.
If you could only knit/crochet one item type of item, what would it be?
That would be tough, but I'm always inspired to design fingerless mitts, so I guess that's what I'd choose.
What is your favorite workhorse yarn?
I like to work with a variety of brands, weights, and fibers, but a nice worsted weight wool yarn that comes in a bunch of colors like Cascade 220 would probably be my favorite.
Which of your patterns make for really great gift knitting?​