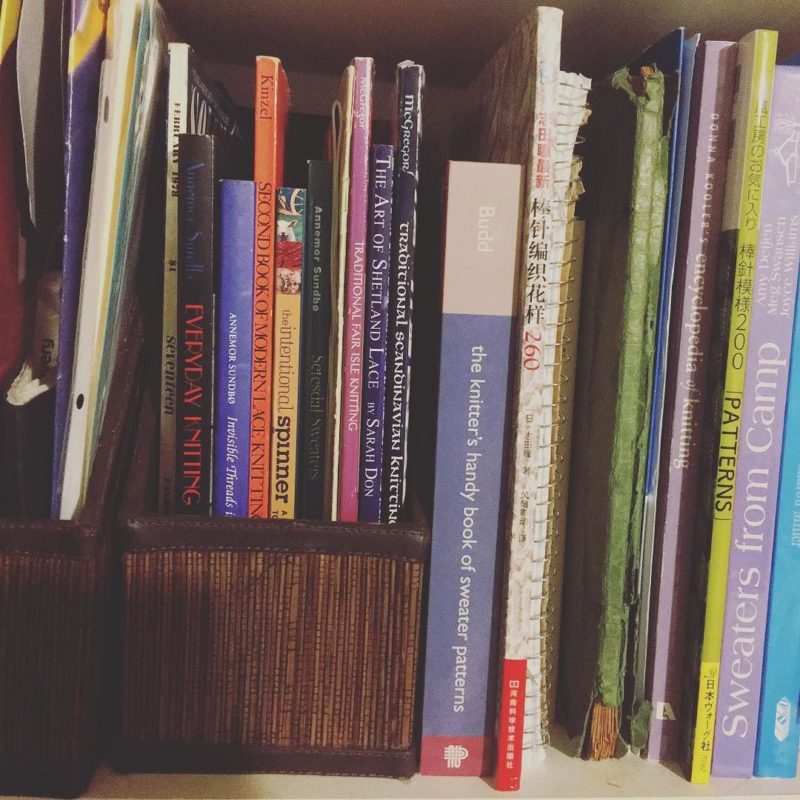 I keep a fairly small library of knitting books, with mostly history and stitch libraries. I find that my local library has most of the other knitting and spinning books I like to look at occasionally. The below are affiliate links (and I may get a small amount if you buy through them), but your local yarn store and library probably have the classics. You can also view all the books in one place here: knitting library.
History Books
I love books that explain the history of textiles, and there are some really beautiful ones out. I don't have much space to store books, but I hang on to my history ones for the inspiration.
A History of Hand Knitting – as Clara points out in a review on Knitters Review, this book isn't light reading. Best if you are interested in the history of knitting and aren't looking for patterns.
Traditional Scandinavian Knitting – good for both a bit of history and traditional scandinavian charts. (If you like colorwork, Traditional Fair Isle Knitting and SELBUVOTTER are also good.)
Everyday Knitting – a great book for the history of what people wore based on what the author found sorting through rag piles. Annemor Sundbø also wrote Setesdal Sweaters and Invisible Threads which also live in my library (it was dangerous working in a yarn store with a great book selection!).   
Poems of Color – 3 or 4 colors per row? Check. Not for the beginning knitter, but the patterns are pretty and the history of Bohus Workshop interesting.
Reference Books
Sweater Design in Plain English – I have an old version of this book from the 1990's, good if you want to design your own sweaters.
The Knitter's Handy Book of Sweater Patterns – a great jumping off point with basic patterns for different styles of sweaters. The series also has a book for basic patterns and top down sweaters.
Knitting Languages – now that google translate exists this book is maybe not as necessary, but I hold on to it anyways.
Stitch Dictionaries
Norah Gaughan's Knitted Cable Sourcebook – My favorite knitting book that has come out in the last few years (though it may be tied with the stitch dictionary below), the cables are fantastic.
Heirloom Knitting – this book may be hard to find (and currently copies are expensive!) but has a great collection of Shetland lace charted patterns. The Art of Shetland Lace also has lace patterns and is more readily available (though much smaller).
Barbara Walker Knitting Treasuries – worth getting at least the first one (there are 4) if you find yourself subbing in your own stitch patterns.
Japanese Stitch Dictionaries
Most of these pattern books are charted and have numbers to the side to indicate the pattern repeats. Somewhere in the book there will be basic illustrations explaining what each symbol means and how it is worked. This Knitty article is helpful.
Clear & Simple Japanese Knitting Symbols Translated – this is one of the less expensive Japanese stitch pattern books. A good book to get to see if you like this style of stitch library.
Treasury of 260 Couture Knitting Pattern –  (aka Knitting Patterns Book 260) currently my favorite stitch dictionary.
Treasury of Couture Patterns 250 – interesting combinations of lace and cables.
Knitting Patterns 500 – as it says, 500 stitch patterns.
Favorite Knitting 200 Pattern – has a fair number of relatively intricate patterns.
1000 Knitting Patterns Book – a bunch of the patterns are actually crochet, but there is a huge variety of options.
Pattern Books
Elizabeth Zimmermann's Knitter's Almanac – includes my favorite Pi Shawl, which also makes for a great baby blanket.
Elizabeth Zimmermann's Knitting Workshop – has all the classic EZ patterns: Baby Surprise Jacket, Tomten, the Pi Shawl, etc. This is my favorite EZ book. If you are a newer knitter, a copy of Knitting Without Tears is also a great addition so you have a bunch of knitting tricks all in one place. While you are at it, Knitting Around is another EZ favorite for the bog jacket, fair isle pullover, and mitered mittens.
PS- If your library doesn't have the EZ books, they are very much worth getting at least one of two of them. You can often get used copies at Amazon starting at $3-4. I find my library has all her most popular books though! Take a look at the Ravelry page for EZ and see what patterns are included. For example, the popular (and one of my fave baby gifts to make, tied with baby booties) Baby Surprise Jacket is in both Knitting Workshop and The Opinionated Knitter.
Knitting Lace Triangles – Classic Evelyn Clark lace triangles in mix and match patterns. Not for the beginning lace knitter, but not difficult.
Sweaters from Camp – A book from my yarn store days (and a reminder some days of how much fun it would still be to work in an LYS). If you like knitting colorwork sweaters, this is a great resource.
Second Book of Modern Lace Knitting – I'm not sure what happened to my copy of the first book, but if you like knitting lace in the round these are fun books. I like using worsted weight yarn and big needles with these to make blankets and giant cozy shawls.
Folk Shawls – Out of print, but if you don't want to knit shawls just in laceweight this is a fun book.
Latvian Mittens – I went through a huge colorwork mitten knitting phase awhile back (pre pinterest), and this was a favorite for browsing through for design ideas.
Spinning/Weaving Books
The Intentional Spinner – I have the book version, but now that there is a kindle version available I may have to switch over to that. If you prefer learning from a book instead of videos, this is a classic spinning book.
Foundations of Weaving – a holdover from having my last loom, I didn't keep much in the way of "how to weave" books after getting rid of my last loom (hopefully temporarily, I hope to have a more space efficient loom in the future!).