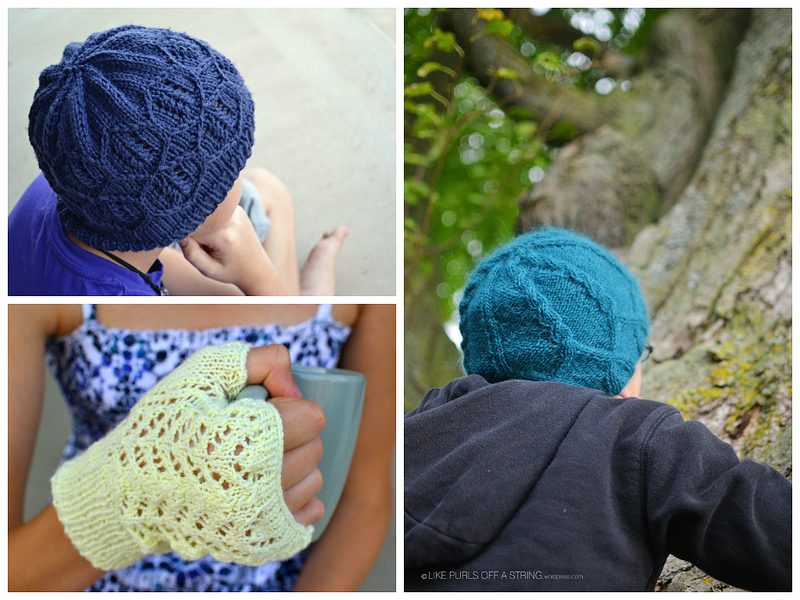 As part of the Indie designer Gift-A-Long, I am interviewing Indie designers about their favorite knitting and crochet projects, yarns, and gift knitting.
Kylie McDonnell-Wade of Like Purls Off a String  (purples on Ravelry)
If you could only knit/crochet one item type of item, what would it be?
Oh, definitely hats! They're just so versatile and fun to design. I think, of all of my projects, I wear hats most… winter is cold here in Canada!
Designing hats is great because the possibilities are endless… cables, lace, colourwork, shaping… Sometimes I'll even start out designing mittens and use the stitch pattern on a hat instead!
My first design was a hat, Bus Hat, and it's done very well. It's still available as a free download!
What is your favorite workhorse yarn?
While I love to splurge on gorgeous indie dyer yarns, I always come to back to basic workhorse yarns as a starting point. My favourite would have to be Cascade 220– it's soft, versatile, comes in lots of colours, and is very affordable. That's really important to me because as a student, I don't always have a lot of money and I know others are in similar situations. That's why I always try to recommend at least one budget yarn in my patterns.
I published Modulation, which uses 1 skein of Cascade 220, last year. It's one of my most popular patterns and my little brother has worn the sample constantly! It also includes a huge range of sizes, from baby to adult large.
Which of your patterns make for really great gift knitting?
Almost all of my patterns are single skein accessory patterns, which makes them perfect for gifts!
I recently published Tempestuous, a worsted weight cabled hat. It's an elegant yet simple design with clean lines that really draw the eye to the cables. The yarn that I used for Tempestuous is Rowan Creative Focus, which is so soft and comes in fantastic colours.
My patterns Solis and Aestas would make a great gift set. Solis is a pair of lace fingerless gloves, and the pattern includes an option for a longer lace cuff or a shorter ribbed cuff. Aestas is a matching slouchy hat. Both are knit in fingering weight yarn, and I just love them in yellow… so cheery! You can also save $2 if you buy the patterns together here.