Midnight Express Hat Top
This is the hat top you make when you realize you have knit around and around (and around) and are about to run out of yarn. Or when you want a hat with a scrunched up top typical of many slouchy hats without having to break yarn and pull through 20+ stitches (the downside of which is often a hole that widens as the hat is worn).
Set Up: Finish knitting the body of you hat. You want the hat to be as long as you need for it to fit your head- or a bit more if you want it to be slouchy, since the decreases add only a couple rounds. I try the hat on and scrunch it on top of my head- if I can scrunch the top all the way closed, I am ready to start decreasing.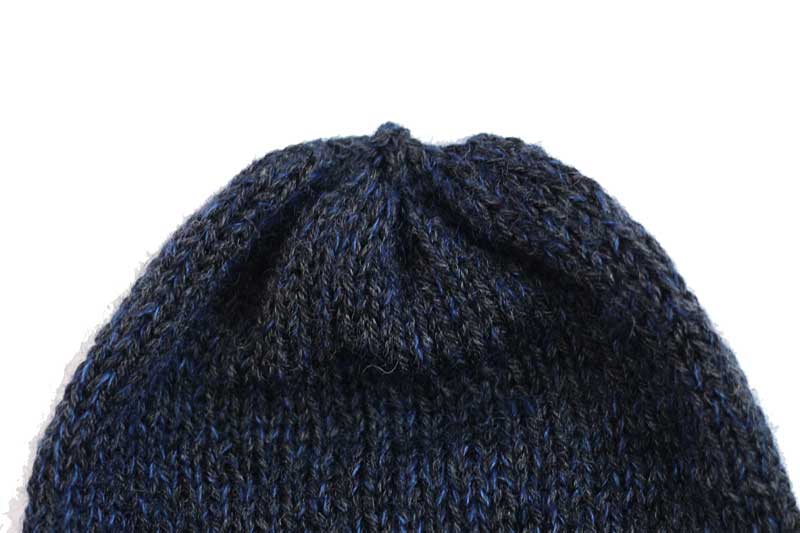 To work the top: Knit 2 stitches together around and around, every round. No need to place a marker, just work around until you are out of stitches. Try and keep an even tension as you do this (especially at the edges of needles), to avoid stretching out the decreases.
Flat top: Stop when you have 6-8 stitches left if you want a "flat" top without a slight point at the top, break yarn, pull through remaining stitches. This is best if you need a flat top for attaching a pom pom to.
Pointy tip top: Knit 2 together around until you have 2 stitches left. Pull the last stitch over the first, break yarn, pull through last stitch. This forms a teeny tiny pointy tip at the top.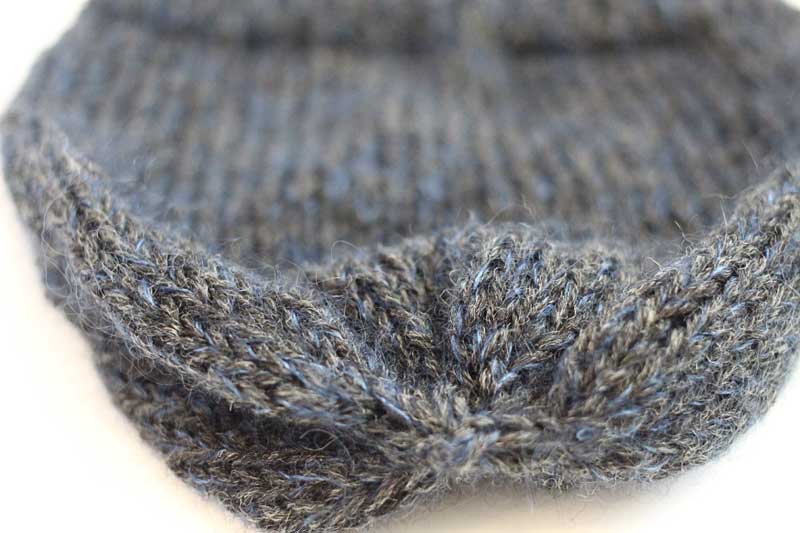 Good for:
Stretchy, slouchy hats with a casual look.
Stockinette, reverse stockinette stitch, or very simple patterns that won't be distorted by the rapid decreasing.
DK, worsted weight, or larger yarns where all the stitches can be decreased in just a few rounds.
Wool and wool blend yarns with lots of stretch- they won't look as distorted by the rapid decreasing.
When you want to finish a hat quickly- no stitch marker or remembering how many rounds to knit between decrease rounds.
Not great for:
Sock weight or smaller yarns- anything that takes more than a few rounds tends to look sloppy and stretched out. Better to add a few knit rounds between decrease rounds.
Inelastic yarns- yarns that are mostly cotton, silky, or other fibers without much stretch won't look at neat at the top.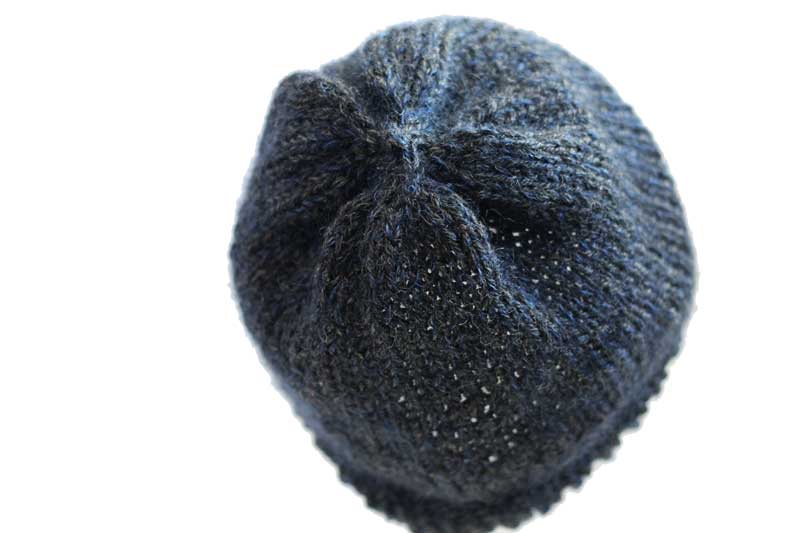 Variation:
I usually work a variation of this top, with several knit rounds between each round of decreases. This still has a scrunched top, but stitches do not look pulled out, and it is easier to continue decreasing in a particular stitch pattern.
I knit this hat in a dark gray wool with a strand of mohair and silk held along for a bit of fuzz and shine. I sized up a needle from my usual gauge to really let the mohair shine through. A couple inches of 1×1 ribbing for the brim (being lazy and not switching to a smaller needle, since I didn't have one with me- notice how it poofs) and straight st st for the body made this a quick and easy knit- which is just what I needed for a weekend project while waiting for fireworks at a festival.